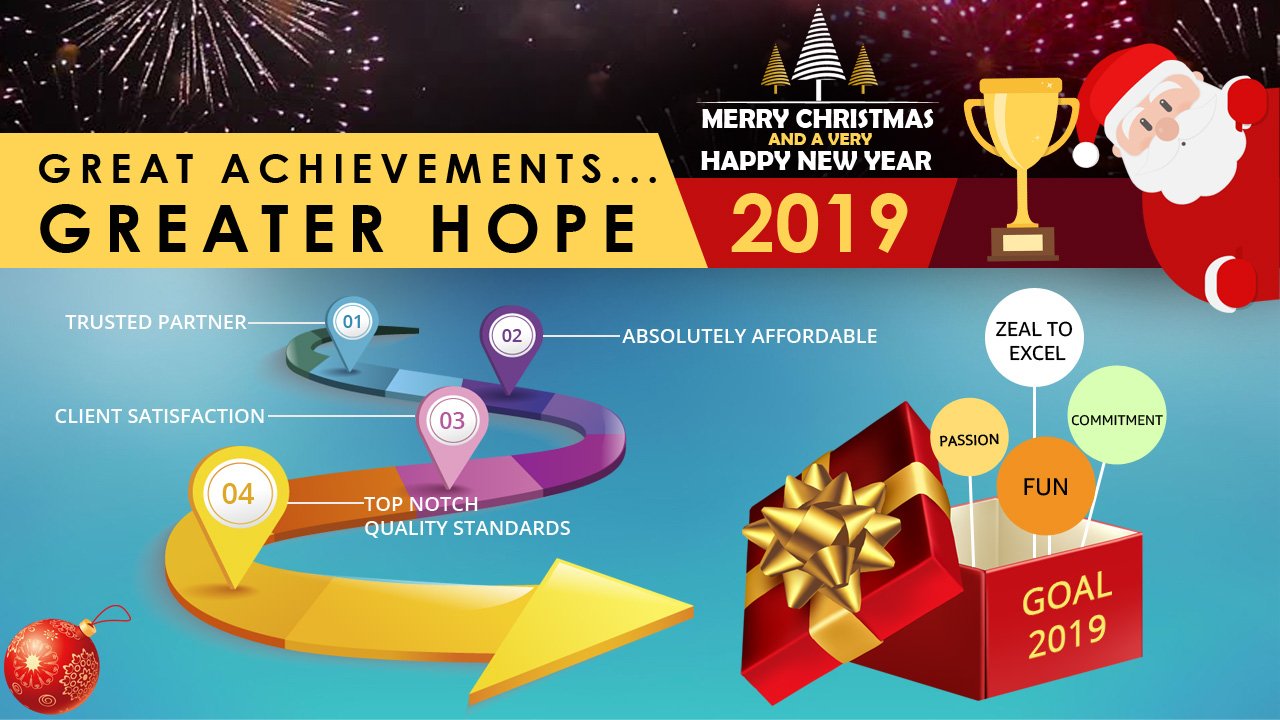 Firstly – We Wish You A Merry Christmas & A Very Happy New Year 2019!!!
As always, we started this year with a hope to solidify our position in the market and further strengthen our relationship with our clients. And to keep it short & sweet – at the end of this year we can proudly say we achieved both. In other words, 2018 was a year of great achievements for HexaLearn. How do we know that or Why do we say so – for us great feedback on a continuous basis from all our clients are a testimony to that.
Talking about testimonials, here are a few:
Hexalearn is a trusted partner. We have come to rely on them to produce innovative, interactive eLearning and videos. They understand instructional design and work with us in partnership to ensure that our courses are effective, attractive, and instructionally sound. Hexalearn's customer service is outstanding, and they constantly amaze us with their speed and high quality. – Sr. Instructional Designer – USA
The experience working with Hexalearn was good, and the team was very responsive! – Executive Publisher – Australia
My experience working with Hexalearn has been great. The team was able to provide the requested templates and courses in the agreed upon time frame. They were even able to provide animations, new icon development, as well as advanced triggers/actions in course files on a very short development timeline. The first draft is always very solid with minimal updates needed. I look forward to working with Hexalearn on future projects. – Instructional Designer – USA
Having known Satya in a previous role, we put in place a close working relationship with Hexalearn several months ago, and have been very pleased in the work that they have done for us. As with any relationship, the more effort you put into it, the better the outcomes. The Hexalearn team are lovely to work with, quick to learn, good at communicating and produce quality output. They are always keen to improve and strive for high quality. We very much like working with them. – Head of the Company – UK
I have worked with Hexalearn since they were founded and have been extremely satisfied with the way they have handled my projects. From gathering business requirements to designing digital product solutions to developing and managing Ed tech applications, Hexalearn has been an effective partner that has helped the businesses I represent achieve their competitive and growth objectives. The team at Hexalearn is easy to work with, very knowledgeable about the Ed tech market, and can be counted upon to add insight and value to the projects they undertake. – Sr. VP Product Management – USA
We have certainly raised our productivity/quality standards by a notch with what we have done so far. With that comes a bigger challenge of raising the standards further. We at HexaLearn are serious about as always and have strategized to fire on all cylinders to better ourselves in the years to come. 2019 that way will be a year of greater hope for us. Our passion, commitment, professionalism and zeal to excel will surely help make 2019 a fantastic year!!!