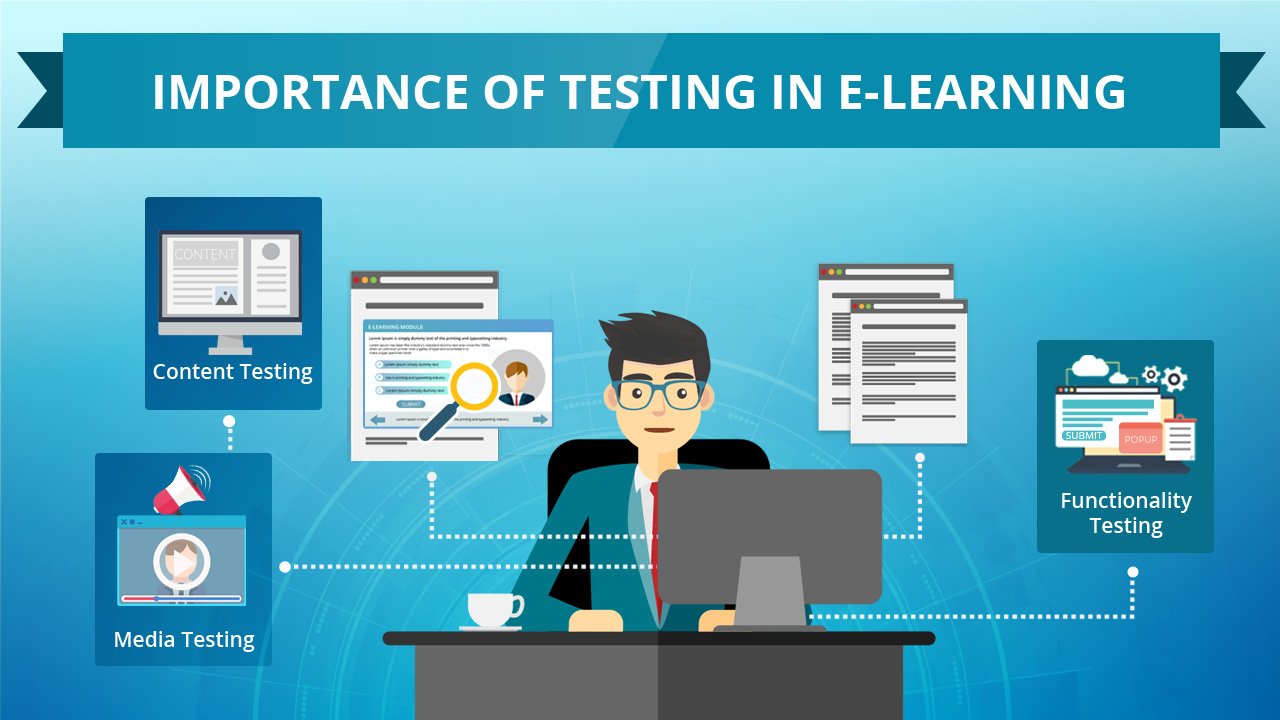 When I was in class XI, one of my teachers said, "Suppose you are served all your favourite food items in a plate, but there is some garbage stuck in the plate. Will you eat from the plate?" I realized the true meaning of his statement when I got into E-Learning industry and came to know about Quality Assurance/Testing.
Quality is perhaps the most important aspect of E-Learning. The only way we can assure quality is through proper testing.
What is QA/Testing in E-Learning?
As the name suggests, testing refers to reviewing the E-Learning module to identify any bug or improvement area. Usually, there is a dedicated team that does the testing. Testing in E-Learning serves as the last check gate before the product is delivered to the client.
What is tested?
Testing experts at HexaLearn opine that testing E-Learning courses should be done in a manner that rules out the possibility of any bug, be it content, media or functionality.
Content testing:

Testers at HexaLearn make sure that the client's content is accurately captured in the module, and is free from any language or grammatical error.

Media testing:

Media plays a vital role in the effectiveness of E-Learning, and so is testing of media. Testers at HexaLearn ensure that proper branding guidelines have been followed, the media style suits the target audience, course real estate is properly managed, and graphic elements enhance the content and keep the learner engaged.

Functionality testing:

Functionality plays a key role in user experience and learning effectiveness. Experts at HexaLearn say that any functionality issue in an E-Learning module is a showstopper and hampers the learning. For example, if you are not able to navigate, or a wrong pop up window opens when you click a button, it hampers the learning. Functionality testing in E-Learning is thus a make or break activity.
User Acceptance Testing (UAT):
The foremost function of this testing is to validate the end-to-end E-Learning course. As the name suggests, it is used to certify that a particular E-Learning module is ready to be released to the target audience. Sometimes, a small group of target audience performs the UAT. UAT is not performed to check whether the module is running, but to make sure that the final product is acceptable by the end user and is fit for use. UAT is carried out in a separate testing environment.
Benefits of testing in E-Learning:
Testing has many benefits, such as:
It ensures an error-free product.
It ensures clients get what they paid for and builds a sense of trust.
It establishes the credibility of the development team.
It shows the improvement areas.
It saves lots of time by showing defect trends and thereby helping in process improvement to make sure these defects are avoided in the next project.
Testing at HexaLearn:
The testing processes adopted at HexaLearn are mature, time-tested, follows industry-standard, and are proven to work. From the commencement of a project to functional testing to deployment, every phase of E-Learning testing lifecycle is well-defined and strictly followed.
Conclusion:
In a nutshell, does it work? Test empowers us to answer the question confidently.