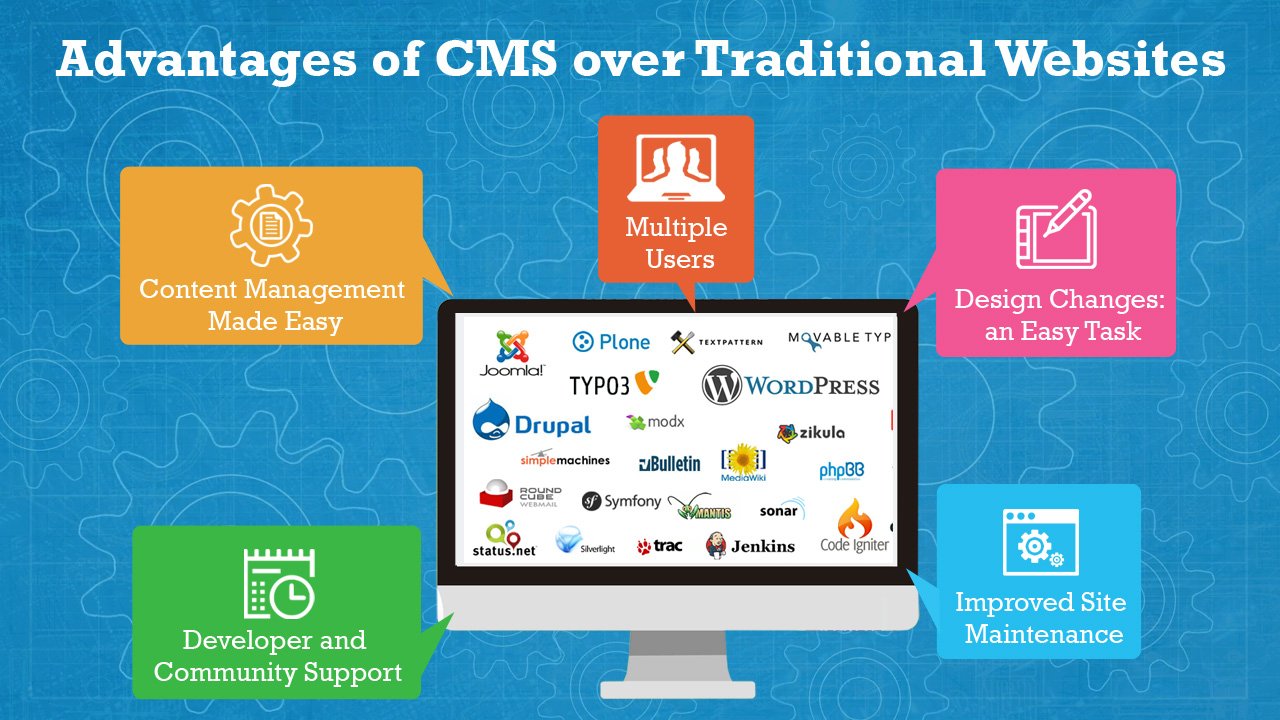 Are you a professional and want to maintain a website? Do you want to focus on your core expertise rather than bothering about the maintenance of the website? Content Management System (CMS) has been a rewarding system for people who want to set up their own website without getting much into its technical details.
Let's understand CMS first.
CMS manages the creation and modification of digital content. It allows multiple users to work in a collaborative environment and to create a professional looking website without doing much coding, in addition, provides many built-in functionalities to quickly add various features to a website.
HexaLearn provides state-of-the-art CMS web designing services. A CMS web development company can really enhance the go-to-market time for creating a new website or updating content in a matter of few clicks.
Let's have a look at the advantages of CMS websites.
Content Management Made Easy
If you are not from a Web development background, mere thought of web content management for your website is daunting, isn't it? It's not about publishing only but also being able to remove or update content when it's outdated. However, when the website is CMS-based, all menus and links update automatically enabling you to have a good experience of the site. In addition, CMS enables you to include customized content such as calendars and lists. It includes SEO too, ensuring good ranking of your content in the search engines.
Design Changes:An Easy Task
Want to change the design of your website? No worries, CMS web design companies report that changing design and layout of a website is a lot easier when we utilize a CMS rather than in a traditional website which involves a lot of coding knowledge. With built-in templates and functional blocks, it's only a matter of choosing the right design and functionality and it can be included on the website easily.
Another noteworthy advantage is its ability to make a change in the administrative CMS development and ensure to have it automatically propagated to the entire site. This provides your site a consistent appearance and is great for branding. This also enables you to update the mobile interface for your site.
Improved Site Maintenance
Changing something on a traditional website requires enormous efforts. This includes making thorough a search on each page and making changes on each page. Experts from HexaLearn suggest that CMS reduces your efforts to almost zero in such cases. The underlying architecture of the CMS websites is the same; as a result, this ensures smooth maintenance, and update of CMS software and adding functionality without disturbing the site when it is functional.
The right CMS keeps itself up-to-date automatically.
Developer and Community Support
All popular CMS's have their own community of developers. It is easier to get help from a community of developers on any technical issues, new features, etc. that you can get free of cost. You can keep yourself updated on bugs, issues, and their resolution, new trends etc.
Multiple Users
A business website involves inputs from a variety of professionals. This may involve professionals adding product pages to those producing blog posts for your content marketing efforts, so on and so forth. With the help of CMS, it is easy to manage roles and publishing permissions for all these users.
Conclusion:
CMS gives a comprehensive, easy-to-use platform to control your website both from a content perspective as well as technical perspective. It allows you to focus on your core expertise rather than how to maintain your website.